Exercising Choice: Search3

Those of us who have given a serious thought to using some other search engine—other than Google, that is—have usually ended up staying with Google. It's a habit.
Then there are meta-search engines (like Metacrawler) that mix results from multiple search engines. But that doesn't encourage you to make a switch (if you want to, that is). Help comes in the form of sites like Panabee and Search3. These relatively new sites give you results from multiple engines, side by side. You choose which search engines should appear. Here's a screenshot from Search3 when we searched for "the most interesting thing in the world":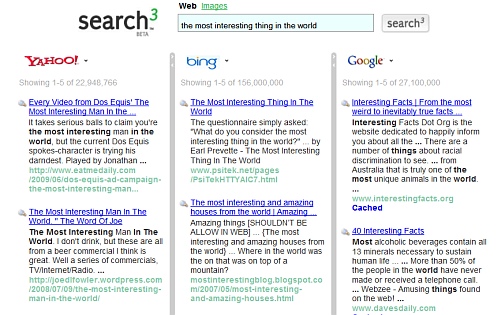 Apart from getting aggregated results, this is useful at other levels. Firstly, you might get an additional perspective on your search query. (For "most interesting thing," Google brought up facts, Bing brought up questions-and-answers first, and Yahoo was about someone called Dos Equis.) Plus, a couple of hours with Search3 might just let you decide which search engine you really want to use! And here's a fun twist: At Blindsearch, you get results from three sites for your query, and you don't know which column is from which site. Vote for the "best" site after you search!